Bond (Böl) Mats Olsson 1840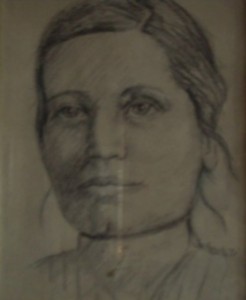 Bond Marget Andersdotter 1844
Barnen,
Anders 1867 – flyttade till Uppsala 1888
Cherstin 1871 – Gifte sig till Häradsarvet 1897
Carin 1874
Marget 1877
Anna 1882
Jöns 1885
Lina 1888
Föräldrar och resterande barn flyttade till Folkkärna 1897. De bytte efternamn till Myrberg och köpte en egendom I Nor.
Bond Karin Olsson (Myrberg) född 1874 26/8 flyttade med familjen till Folkkärna. De bytte namn till Myrberg.
Hon flyttade till Stockholm 1898 och fick där fyra barn.
Marie Eugenia 1898
Axel John Wilhelm 1900
Vega Margateta Elisabeth 1903
Eva Cecilia Caroline 1907
1917 åkte Karin Olsson, tillsammans med sin son Axel John Wilhelm till Amerika.
1918 åkte två systrar till Axel John W till Amerika. Det var Marie Eugenia och Eva Cecilia Caroline.
1919 följde den sista av syskonen efter, Vega Margareta Elisabeth  Myrberg.
Där gifte hon sig 1923 med John Peter Dahlqvist från Halland. De bosatte sig i Utah.
Hennes son Axel John Wilhelm gifte sig och nedan kan Ni läsa hans dödsruna.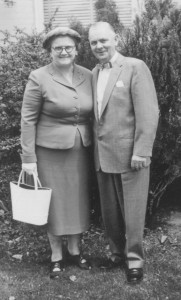 Axel J. Myrberg, 65, died of natural causes Aug. 28, 1966 in a SaltLake hospital.
Born Sept. 15, 1900 in Stockholm, Sweden to  Karin Olson Myrberg.
Married Edna B. Clements, June 16, 1923 in Rockford, Illinois. Their marriage was later solemnized in the Salt Lake LDS Temple. Axel and Edna had ten children, all of whom they adored. Axel was a member of the Salt Lake Thirtieth LDS Ward.
He worked for the Salt Lake City Water Department as a draftsman and had retired in July, a month before he died. He was a Utah legislative candidate and enjoyed being involved civically. He was a Jackson Democratic League officer.
Axel had the unique musical talent of saw player and appeared and performed on the Ted Mack Amateur Hour. He taught several of his children to play the saw as well.
Survivors include his widow; sons, daughters, John E., Dale L., Mrs. Max A. (Nedra) Peck, Mrs. David M. (Carolyn) Kadleck, Bernice, all Salt Lake City; Mrs. Weston (Joyce) Reese, Roy; Mrs. Robert G. (Janet) Jenson, Palo Alto, Calif.; Mrs. Jerry L. (Nancy) Virchow, Anchorage, Alaska; 27 grandchildren; sisters, Mrs. Frank (Eva) Jentzsch, Salt Lake City; Mrs. Carl (Marie) Lundgren, Palmdale, Calf.; Mrs. Irving (Margaret) Drury, San Jose, California.
https://www.soldemigranter.se/wp-content/uploads/2017/07/soldemigranter-logo.png
0
0
admin
https://www.soldemigranter.se/wp-content/uploads/2017/07/soldemigranter-logo.png
admin
2013-07-09 23:03:06
2013-07-09 23:03:06
Bond Karin Olsson – Myrberg