Mats Jöns Andersson 1821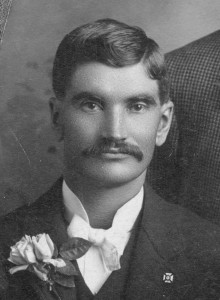 Klockar Anna Nilsdotter 1821
Barnen,
Marita 1850
Cherstin 1853
Anders (Soldat Blixt) 1855
Anna 1859
Nils 1867
Ändrade sitt namn till Nels Magnus Johnson, gifte sig med
Lucy Christine Gullickson som härstammade från Norge.
De fick en dotter Aileen Maxine 1908
Här är en berättelse hur det gick för Nils i Amerika. Berättat av;
Diane Elizabeth Wilson Hull
Great granddaughter of Nels and Lucy
I love the picture of my great grandfather, Nils on your website. I have never seen himso young. It must have been taken right before he left Sweden. As the youngest child,he probably sought opportunity by going to America.
He made good for himself. Nels met my great-grandmother in Minnesota; they married on October 19, 1901 (she was 19 years old, he 34 years). She had a position as a'nanny' in Minnesota prior to marriage.
They came to California and lived in Santa Barbara for a few years. He partnered with a friend in the jewelry business, and its my understanding he learned the profession from the friend. The partnership dissolved (unknown reasons) and my great-grandparents settled in Kingsburg, California (central valley town about 30 miles from Fresno).
They lost two boys before they reached 2 years old, and my grandmother (Aileen Maxine) was their only surviving child. Nels built a three story home in Downtown Kingsburg within walking distance to his watch and jewelry store. My grandmother learned to walk in the attic of their home, where they lived for 2 years while it was being built. They hoped to have more children so they built 6 bedrooms on the second floor.
Later, Lucy Christine (nee Gullickson) joined Nels in adjoining space and she ran a women's clothing store, with households, including china and silverware. They also took in boarders, primarily immigrants. The census shows the house is full of people in 1920, 1930 and 1940 with Swedish or Norwegian last names.
Aileen, my grandmother, met my grandfather Harold Osborn Wilson at college and the new Fresno State College. My grandmother studied elementary teaching, my grandfather studied agriculture, including animal husbandry. They dated fro four years before marriage, mostly because my grandfather was 2 years younger and he planned on finishing college and getting a job first. There also has been some family talk about the son of a poor farmer and the only daughter of a well-to-do merchant.
We have letters written between my grandfather and grandmother during their courtship. She was often away from Kingsburg – summer jobs in Tahoe, summer school in Pasadena. I think this was partly to provide some distance between the two. My grandfather wrote often about doing something worthwhile with his life. His parents, Osborn and Fanny Wilson, owned a small farm in Riverdale (near Fresno).
My grandmother lived at home until she married. She got a job teaching in the area and put all of her money in the bank. The depression was underway, and she lost all of her savings when Roosevelt closed the banks in 1933. Aileen and Harold were married June 26, 1933. They started life together with her last two paychecks and his new job teaching at a local high school. They rented a small house on a dairy farm (grandma barely tolerated the smell).
They had two boys; my dad Harold Lynn Wilson (1934) and Bruce Wilson (1937). By then, my grandfather was teaching at the new California Polytechnic School in San Luis Obispo. He was to spend the rest of his career with the two Cal Poly's, as he helped establish the "Voorhee's Campus" in the southern California town of Pomona and later came back to San Luis Obispo.
They visited the central valley often, to see both sets of parents; and Grandpa's brother and sister and their families. My dad has fond memories of fun times in the valley with his cousins.
All was good until Nels died of stomach cancer in 1942. My dad remembers this clearly. Nels passed at home with family around. My great grandmother, Lucy went into a Deep depression, saying she didn't want to live without Nels. But my grandmother encouraged and visited her often and got her out of her depression. They closed the jewelry store. Lucy ran the women's shop for years afterward (I am not sure how many). She also continued to take in borders.
By the time I was born in 1957, I believe she was retired, (other than a border or two) because I don't ever remember her store. We visited Kingsburg and Riverdale every summer with my grandparents. I have clear memories of the family homes. (I am the oldest grandchild.)
Lucy Christine Gullickson Johnson died in June 1975 at the age of 83, from a stroke. I will never forget because it was my senior year in high school and I was excused from some of my finals to attend the funeral in Kingsburg. My grandmother was devastated. Aileen Maxine Johnson died in 2006 at the age of 98 3/4 (we give her the 3/4). She passed from old age. Harold Osborn Wilson died earlier in 2000 of pulmonary condition (not cancer). His sister and brother preceded him in death.
Both Lucy and Aileen suffered from a mild form of dementia in their declining years. They always remembered family and were pleasant and sociable, but became increasingly unaware of much else. Both talked with their deceased husbands in their final days. My grandmother had a long loving relationship with her mother. After the boys were raised, Aileen and Lucy spent a lot of time together, going on cruises and visiting each other in San Luis Obispo and Kingsburg.
Nels and Lucy have 2 grandsons (my Dad surviving, Uncle Bruce died of prostrate cancer in 2007). 7 great grandchildren, 12 great-great-grandchildren and 2 great-greatgreat- grandchildren (so far). Other than great great granddaughter Jessica who lives in Washington, all continue to live in California.
My cousin is named after Nels, well was supposed to be except his mother is German and with her accent she pronouced it "Niels" and they wrote it down that way. (My uncle met my aunt while he was stationed in Germany with the army.) Nels dreamed big when he immigrated to America and eventually to California. He died young and never would know his great legacy. But we will never forget.
http://www.soldemigranter.se/wp-content/uploads/2017/07/soldemigranter-logo.png
0
0
admin
http://www.soldemigranter.se/wp-content/uploads/2017/07/soldemigranter-logo.png
admin
2013-04-07 04:57:00
2013-04-07 04:57:00
Mats Nils Jönsson